December 2017
Waukesha Choral Union Presented

…

~~ A Choral Union Christmas ~~

OUR favorite Christmas melodies, sung under Artistic Director Mike Chapel, propelled us & our audience into this beautiful Season!
If you missed it, here are some comments from those in attendance:
•       "deliciously voiced"
•       "exquisite harmonies"
•       "some exceptional moments"
•       "you put me in the holiday spirit"
This charming program was a blend of traditional French, Basque, English & Austrian Christmas classics, the Charlie Brown & Friends medley, and John Rutter's lovely holiday compositions.  It was a joy to perform, & our pleasure to sing for you!
NOVEMBER, 2017
 

SIMPLE GIFTS …
A COLLABORATION 

was wonderful!  300 guests were enthralled by the New Berlin Eisenhower High School ACapella Choir's rendition of "Miniyama Nayo", and delighted in the sweet voices of  Lake Country Children's Choir.  Our closing number of  Copeland's "Simple Gifts" sung with all choirs, was a perfect way to end the evening.  Sincere thanks to WCU Director Mike Chapel for outstanding programming, to both of our collaborative partners, and to YOU who joined us in celebrating the music!
---
---
MAY 8, 2017
FROM OUR ARTISTIC DIRECTOR:
Allow me to offer my THANKS for all of your hard work and music making this 2016-17 season. This season's music was more challenging and, in many ways, you rose to those challenges. You gave two very inspired concerts at Carroll (March AND May) to close our season, both of which I hope were rewarding and well-received by you and yours… It is/was a pleasure to stand before you and have the opportunity to lead you through these wonderful compositions. In the end, it comes down to what and how you do "what you do" – so I offer you a sincere THANK YOU for all of your efforts. 

To those that I will not see

on Tuesday

, have a great summer break; watch for calendar info soon (on the webpage and via "Sue messages"). And to all of you: "I'll see you next time."

Mike
May 2017 Newsletter
| | |
| --- | --- |
| News from the Waukesha Choral Union | May 2017 |
 Waukesha Choral Union Proudly Presents
 "NIGHTS TO REMEMBER"
Saturday, May 6
, 2017  
    7:30PM  

The Waukesha Choral Union singers, under the direction of Mike Chapel,  serenade the night in our closing concert of the Season.  The Humphrey Memorial Chapel & Arts Center is perfectly suited to an eclectic night of choral  compositions by  Z. Randall Stroope,   Rodgers & Hammerstein,  Lee Kesselman,  Samuel Barber and Dan Forrest. More surprises are in store on this night of nights.  Bring your Sweetheart, your loved ones, your neighbors … and come enjoy the music!  It'll be a Grand Night for Singing!
---
SING WITH WCU!! 
Auditions for next season will be held in August 2017 at Christ the Servant Lutheran Church in Waukesha. Warm up those voices and come try out for WCU. 
Check our website www.choralunion.orgthis June for the confirmed audition date!  
Go to the Sing With Us tab of our website to learn about the process
   ***
Email: membership@choralunion.org for even more audition details.
---
WE SING BECAUSE OF YOU!
---
2017- 2018       
Our 44th Season 
……
 promises to be full of great  & memorable music. We'll roll out more information on our website this summer! 
Stay tuned …
---
  REQUIEM 2017 PERFORMANCE
WITH JUBILATE CHORALE & COMMUNITY SINGERS
March 2017 Newsletter
| | |
| --- | --- |
| News from the Waukesha Choral Union | March 2017 |
Fred & Joanne Portz Free Community Concert
Waukesha Choral Union Proudly Presents …
3:00 PM
The Fred & Joanne Portz Community Presentation of
"A GERMAN REQUIEM"
Shattuck Hall
218 N. East Avenue, Waukesha
Carroll University
Map
An extraordinary event to be sure!  The outstanding  Jubilate Chorale joins WCU singers and their Community  guests  to perform  the exquisite  Brahms' A German Requiem.  A must attend concert!  Michael Chapel directs the singers and chamber orchestra at Carroll University's Shattuck Hall, with Soprano Shallece Peters Stewart, and Bass/Baritone James Barany lending their vocal artistry to the magnificent score. Your presence will bring the music to life!
****
Thank you to the Portz Family Foundation, and to the Waukesha County Community Foundation for their sponsorship of this free community event!
MARK YOUR CALENDAR FOR OUR FINAL PERFORMANCE OF THE SEASON …
"NIGHTS TO REMEMBER"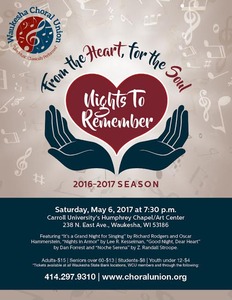 Carroll University's 
Humphrey Memorial Chapel & Arts Center
238 N. East Avenue, Waukesha
The WCU singers serenade the night in our closing concert of the Season. Bring your Sweetheart and come enjoy the music!  
---
 YOU CAN SING WITH WCU!! 
---
 

WE SING BECAUSE OF YOU!
Thank YOU for supporting choral music in the Waukesha Community!
THE  WAUKESHA CHORAL UNION
Waukesha Choral Union has been musically active in the community for over 60 years.  Originally a combination of Carroll College students and community singers, it took its present name in 1974, and became an auditioned choir in 1978.  Waukesha Choral Union derives its strength and quality from its members' passion for singing and is always seeking new voices.  Auditions are held by appointment.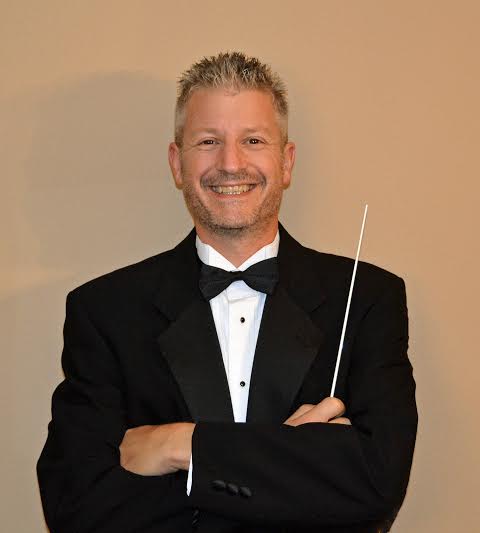 MICHAEL CHAPEL is the director of  choral activities and musical theatre at Brown Deer Middle/High School (grades 7-12) and he is the fine arts/facilities coordinator for the School District of Brown Deer.  Additionally, Mr. Chapel is the choir director and lead service accompanist at St. Peter's UCC in Saukville. He is also the Choir Coordinator for the Wisconsin School Music Association (WSMA) Middle Level Honors Project and is active as an adjudicator for solo/ensemble festivals and auditions sponsored by the WSMA.  Mr. Chapel is a graduate of the University of Wisconsin-Milwaukee with a Bachelor of Fine Arts in Music and a Master's Degree in Music Education – with  an emphasis on choral conducting. This marks his second season as Artistic Director with WCU.
MISSION
The Waukesha Choral Union will challenge, enrich, and engage its singing members, audiences, and community through the pursuit of excellence and a variety of programming. The WCU mission includes expansion of the effectiveness of its educational efforts in Waukesha County through collaboration with area high school and university music programs.    

IT'S OUTTA HERE !!!  Waukesha Choral Union  performed before our largest crowd yet …. 27,000 strong … when we sang the National Anthem at the Brewer's Game on June 10th.  It was quite a moment at Miller Park!  Here are 2 YouTube links:

---
---